Building God's Kingdom One Life At A Time
Children's Sunday School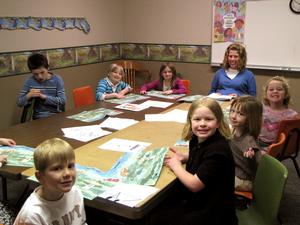 The purpose of our Sunday School program is to disciple students in their Christian faith by teaching and modeling traits of Bible leading, fellowship, and prayer. We pray that any individual attending our program will grow to be a willing and capable servant of Christ. Sunday School provides classes for 3-year-olds through adults. Sunday school classes are held from September through May at 10:45AM-11:30AM each Sunday.
CLASSES FOR CHILDREN: Available for ages 3 through 12th grade, the purpose of the Sunday School program is to teach students the Bible, the way of salvation, and the mission of the church. Students study doctrine, Bible history, and learn how to apply Biblical concepts to their daily lives.
For ages 3 through pre-kindergarten, there are opening exercises before Sunday School each week at 10:45AM. The primary purpose of the opening exercises is to teach children to worship God through singing. Children are taught foundational Bible action songs.