Building God's Kingdom One Life At A Time
Vacation Bible School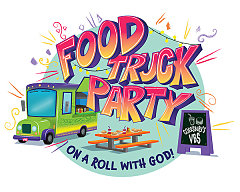 Dates: Sunday, July 9 - Thursday, July 13 Time: 5:30 PM - 8:30 PM
We would love to have your child join us at Food Truck Party VBS! You may register your child in the Fellowship Hall, by calling the church office at 324-2130, or you may register at www.myvbs.org/sheldonfrc. We need to know their age & the grade they have just completed. A meal will be served each night.
Classes are offered for K through 4th graders. 5th-7th graders can serve as helpers by registering as well.
A nursery & preschool class will be available for parents/individuals who help with VBS in some capacity.
The purpose of Vacation Bible School is to reach out to children in the community,
teaching the Bible and the way of salvation.
Our next VBS will be held July 9-13 2023!
5:30-8:30 PM; Supper included!
There will be a nursery and preschool provided for volunteers' kids only.
Contact Julianna Kempema​ at frcchristianed@outlook.com or 712-324-2130 for additional information.